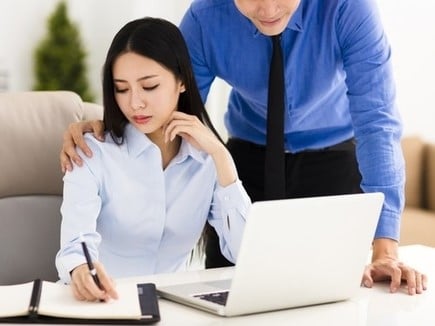 Based on a recent survey, over a third of Malaysian women experienced sexual harassment at workplaces. In most cases, the victims chose to remain silent because of embarrassment, fear of retribution, or thought that speaking out would make no difference.  
In this article, we aim to raise awareness on workplace sexual harassment from the law point of view by answering some common questions regarding this issue.  
What is Sexual Harassment? 
The term "Sexual Harassment" is explained under the Employment Act 1955 (hereinafter referred to as "the Act"), and the Code of Practice on the Prevention and Eradication of Sexual Harassment in the Workplace (hereinafter referred to as "the Code") as follows: –  
"Any unwanted conduct of a sexual nature, whether verbal, non-verbal, visual, gestural or physical, directed at a person is offensive or humiliating or a threat to his/her well-being, arising out of and in the course of his employment."
Under the Code, sexual harassment can be categorized into two (2) types:  
SEXUAL COERCION: For example, a superior who decides on salary increment and promotion attempting to coerce a subordinate for sexual favours.
SEXUAL ANNOYANCE: A sexual-related conduct that is offensive, hostile or intimidating that has no direct link to any job benefit. A sexual harassment by a colleague or a company's client will fall into this category. 
What are the forms of Sexual Harassment? 
Sexual Harassment can take place in various forms. Based on the Code issued by the Ministry of Human Resources, there are 5 possible forms of sexual harassment:- 
(a)   VERBAL HARASSMENT
For example, offensive or suggestive remarks, comments, jokes, questioning (i.e. Asking sexual questions, or about someone's sexual history or sexual orientation).
(b)   NON-VERBAL/ GESTURAL HARASSMENT 
For example, leering or ogling with suggestive overtones, licking lips, or hand signals denoting sexual activity, persistent flirting (i.e. Staring in a sexually suggestive or offensive manner, or whistling).
(c)   VISUAL HARASSMENT
For example, showing pornographic materials, drawing sex-based sketches, writing sex-based letters, or sexual exposures (i.e. Sharing sexually inappropriate images or videos).
(d)   PSYCHOLOGICAL HARASSMENT 
For example, repeated unwanted social invitations, relentless proposals for dates, or physical intimacy (i.e. Sending suggestive letters, notes, or emails).
(e)   PHYSICAL HARASSMENT
For example, inappropriate touching, pinching, stroking, brushing up against the body, hugging, kissing, sexual assault. 
What can a victim do if he/she is being sexually harassed at the workplace? 
The victim can first lodge a complaint to the employer. If no action is taken, or if the outcome is unsatisfactory, the victim should then lodge a complaint to the Director General of Labour pursuant to Section 81D of the the Act. The Director General will then direct the employer to conduct an inquiry followed by a report to be submitted to the Director General within 30 days.  
If the harassment involves physical molestation, indecent exposure, or physical sexual assault, then those acts may be a criminal offence under the Penal Code. In such circumstances, we advise the victim to immediately lodge a police report at the nearest police station.  
What are the employers' legal responsibilities in handling sexual harassment cases? 
Under Malaysian law, employers have a legal obligation to ensure a safe workplace and possess a duty to inquire into allegations of sexual harassment by employees. In one case of Sitt Tatt Bhd v Flora Gnanapragasam & Anor, the High Court held that the company's management was guilty of dereliction of duty because it did not act on the employee's complaint on sexual harassment.
Although the law does not set out the investigating procedures for such incidents, the employers are advised to establish an in-house mechanism with a comprehensive policy and a simple complaint procedure to deal with this issue.
Our Recommendation(s) to Employers:
It is always advisable for employers to set up whistleblowing channels to better manage sexual harassment complaints at the workplace.
Can a victim sue for compensation from the harasser? 
The short answer is – Yes.  A victim of sexual harassment has the right to sue the harasser under the tort of sexual harassment to obtain compensation. In one Federal Court case in 2016, Mohd Ridzwan Abdul Razak v Asmah Hj Mohd Nor, the employee complained that she was sexually harassed by the Manager. But unfortunately for the poor girl, her complaint was dismissed for lack of sufficient evidence by the Company's Human Resources Department at the time.   
Mercifully, this impediment didn't deter the strong lady from pursuing her case through legal process. And the Court ultimately agreed with her and found that the harassment committed by the Manager had caused her to suffer from Emotional, and Mental Trauma. The Honourable Court subsequently granted damages to the victim amounting to RM120,000.00. That said, it should be noted that the amount of damages a victim may get in such a situation is very fact-dependent. 
Hence, if you find yourself in a potential sexual harassment situation, it is our view that you should immediately file a report with the Human Resources Department, and/or the Police (if physical harassment is involved). In such situations, we want to assure that your safety comes first! We also want to point out that should you file such complaints, your employer cannot ignore or choose to retaliate against you! We are here to fight for you!
Therefore, whilst our C&C family hope that nobody has to ever go through such ordeal, but in the event you have been the victim of sexual harassment, and need an experienced lawyer in workplace harassment, please do not hesitate to contact us today!  If you're a lady, and you find it more comforting confiding such incidents to a female lawyer, we will assign one for you.
Disclaimer: This article is intended for general informational and education purposes only and not for the purpose of providing legal and professional advice. If you have further issues regarding your workplace rights, please contact us today at info@chernco.com.my, or send us a direct message through our WhatsApp button on the website.